Ruweng unveils new radio station with a 2,000km broadcast range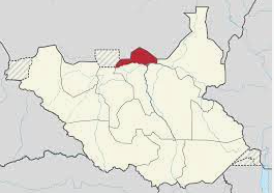 In a momentous event, residents of Ruweng Administrative Area gathered on Saturday to mark the grand opening of Ruweng 87.6 FM, a radio station that boasts an impressive 2,000-kilometer broadcast range.
The station has undergone extensive renovations, thanks to the support from the government of the Ruweng Administrative Area project program.
Remarkably, Ruweng 87.6 FM holds the distinction of being the first radio station established since the Republic of South Sudan gained independence in July 2011. Operating under the purview of the Ministry of Information and Telecommunications in the Ruweng Administrative Area (RAA), this milestone was met with jubilation by the local community.
Mading Chol Dongwei, the mayor of Pariang Town in the Ruweng Administrative Area, expressed his enthusiasm, saying it is the first radio in the area.
"The radio was on-air yesterday since the creation of our nation South Sudan. No other radio station has been established in the area by the government of Ruweng Administrative Area," he said. "It is the first radio station to be established in Ruweng Administrative Area headquarters in Pariang town. Yesterday, we went on air for the first time. The happiness and celebrations by the people continue."
For his part, Peter Riak, the Director General at the Ministry of Information and Telecommunications in the Ruweng Administrative Area, emphasized the significant role Ruweng 87.6 FM will play in disseminating information.
"Our radio will cover 2,000 kilometers from Ruweng to Unity State, including the rest of states Upper Nile, Jonglei, Abyei, Warrap State, and Lakes State," he said.
Riak also called for strong collaboration between journalists and local authorities to ensure the presence of free and independent media which he deemed essential for a thriving democracy.
Meanwhile, Diar Deng, a resident of Pariang Town, welcomed the station's opening, noting its importance in restoring a vital source of news and information.
"Ruweng 87.6 FM is now operational to give accurate, fair, and independent news and information in our local Drinka language, English language, and Arabic language. We will use both English and Arabic for our news programs," he said. "We appreciate the Ruweng Administrative Area government for establishing the radio station."
For his part, Bol Dau Kuol emphasized the radio's vital role in providing access to information for those without reliable internet access.
"The launch of the radio is very important to the people because we do not have access to the internet sometimes. So, we will just tune in and get the information locally here," he said. "Another important thing is that the radio creates peace among the communities from different areas of Ruweng and South Sudan. Radio can bring all these different people together."