Rumbek Bishop-elect shot and injured, 24 suspects arrested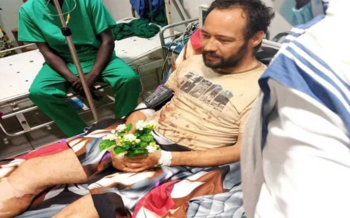 Authorities in Lakes State have confirmed that the Bishop-elect of Rumbek Catholic Diocese has been shot and wounded in both legs by unknown gunmen who attacked his residence at midnight yesterday.
About 24 suspects have so far been arrested by the police in the Lakes State capital, Rumbek.
Speaking to Radio Tamazuj this morning, the acting minister of Information and Communication, William Kocji Kerjok condemned the assassination attempt on Father Christian Carlassare, the Bishop-elect.
He said Fr. Carlassare was wounded in both legs by the gunmen who entered his room last night and is now receiving medication in Rumbek State hospital.
"You know every case here has a reason. There are cases related to girls eloping, cattle rustling, and some of them are related to revenge killings. This case is so special and we are treating it as politics within the Catholic Church itself," Minister Kocji said. "And this one of the Bishop seems to be something within his administration because he is very new to the place and he has no problem with anyone but he was shot on target."
"Those guys came directly to his room, they struggled to open his room till they started shooting at his room. Almost 13 bullets were shot at him. And later when they managed to get in they told him to sit down and they shot at his legs. So, they did not intend to kill him but I think they were intending to scare him. So we are saying, the leadership of the Catholic Church should be answerable for this. And that is why the government is arresting almost everybody there so that they are held accountable for this," he added.
The Diocesan Coordinator of Rumbek Catholic Diocese, Father John Mathiang Machol, condemned the attack.
"We were woken up by the cry and sound of gunfire. We went there and we found the Bishop was shot in both legs and the criminals ran away. We took the Bishop to Rumbek Hospital for treatment until now we are in the Hospital with him," Fr. Mathiang said.
He said that Fr. Carlassare's condition is stable and that he will be transferred to Juba by a Red Cross plane and from there to Nairobi for further treatment.
"There is no leg broken and no fractures caused by the bullets on both legs. But there is persistent serious bleeding which has been dressed up," Rumbek State hospital administrator, Matur Rany said.
According to The Association for Catholic Information in Africa (ACI-Africa) the injured cleric is in a stable condition, and plans are underway to airlift him to Kenya's capital, Nairobi, through the services of the African Medical and Research Foundation (AMREF).
The Italian-born Comboni Missionary Cleric was appointed Bishop for Rumbek Diocese March 8. His episcopal ordination was scheduled to take place on Pentecost Sunday, May 23.
He had been serving in South Sudan's Malakal Diocese since he arrived in the East-Central African country in 2005.
He traveled to Rumbek Diocese on April 15 following days of spiritual retreat in South Sudan's capital, Juba.
Rumbek Diocese became vacant in July 2011 following the sudden death of Bishop Caesar Mazzolari. The Comboni Missionary Bishop collapsed during the celebration of Holy Eucharist on the morning of 16 July 2011, one week after South Sudan's independence, and was confirmed dead at the Rumbek State Hospital that morning.
Fr. Fernando Colombo, a member of the Comboni Missionaries governed the Diocese as Diocesan Administrator until 27 December 2013, when Fernando Cardinal Filoni, then Prefect of the Congregation for the Evangelization of Peoples, appointed Fr. Mathiang Diocesan Coordinator.