RTNLA extends recess over delayed Bills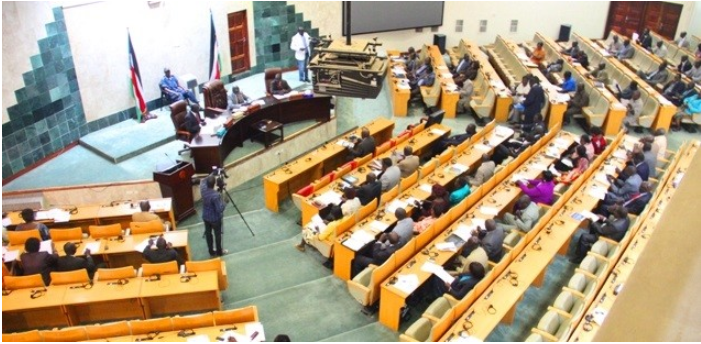 The Revitalized Transitional National Legislative Assembly (RTNLA) has extended its recess over delays by the National Constitution Amendment Committee (NCAC) in tabling outstanding Bills, the chairperson of the house's information committee has revealed.
John Agany Deng told Radio Tamazuj Monday that six Bills were supposed to be tabled before parliament by NCAC for deliberation but that they have not yet been submitted.
"We have not yet resumed. Last week, I think the Assembly Business Committee (ABC) came with a resolution that the Bills which are supposed to be debated by the assembly when it would resume are not yet ready," he said. "The assembly resolved that let the recess continue silently until the Bills are ready then the members will be called, and the assembly will be opened officially by the president."
According to Agany, the missing Bills include the Election Bill, Security Bill, Bank of South Sudan Act 2011 (Amendment Bill), and the Banking Act 2012 (Amendment) Bill, among others.
Last December, President Salva Kiir signed ten Bills into law and urged parliamentarians to speed up the process of passing the pending Bills.
Agany said the house was supposed to start a business on the 16 January but decided to extend the recess to allow the NCAC and the council of ministers to work on the pending Bill.  He, however, cautioned that further delays in tabling the Bill would be disastrous.
"If these bills are delayed, definitely, this will be a great disaster to the government as a whole because some of them have a bearing on the forthcoming elections," he warned. "If they are not ready, how will the election take place?"
The Bills President Kiir signed are The South Sudan People's Liberation Army Act, 2009 (Amendment) Act, 2022, The Political Parties Act, 2022 (Amendment) Act, 2022, Appropriation Act, 2022/2023, and Financial Act 2022/2023.
Other Bills were the Constitution Making Process Act, 2022, and The Transitional Constitution of the Republic of South Sudan 2011 (Amendment) No.11 Act, 2022, among others.