MAGENIS/JUBA -
14 Sep 2021
Rival SPLA-IO forces clash yet again in Magenis, Upper Nile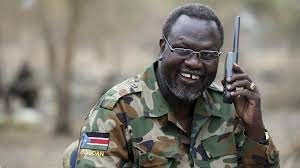 Fighting between forces of the Sudan People's Liberation Movement-In Opposition (SPLM/A-IO) and the breakaway faction of the SPLM/A-IO led by General Simon Gatwech Dual in the Magenis area, north of Upper Nile State has been ongoing since Friday last week.
Gen. Gatwech's forces claim that SPLA-IO forces led by Dr. Riek Machar attacked their defensive positions again on Monday morning. However, forces loyal to Machar claim they were only responding to repeated attacks by Gatwech's forces.
Speaking to Radio Tamazuj on Monday, Brigadier General William Gatjiath, the spokesman for Gatwech's forces claimed they had inflicted heavy casualties on Machar's forces and insisted they will continue to fight in self-defense.
"Our forces are in pursuit of Machar's forces. This is the fifth attack on our forces, and we are committed to the ceasefire process, except in the case of self-defense," he added.
Col. Lam Paul Gabriel, the SPLA-IO spokesperson, confirmed the clashes in the Magenis area on Monday but insisted their forces had taken control of the Kuek and Gaisan areas.
He further claimed that they had killed a high-ranking commander of Gatwech's forces and wounded another and said, "I do not have accurate details and statistics on the number of dead on both sides."
Col. Lam affirmed that the clashes started last Friday and were ongoing on Monday afternoon in the areas controlled by Gatwech forces.
The two groups have been fighting since the former SPLA-IO chief of staff, Gen. Gatwech announced the ouster of Dr. Machar from the party and installed himself as the head of the movement in what was called the Kit-Gwang Declaration last month.