Rival SPLA-IO factions clash in Jonglei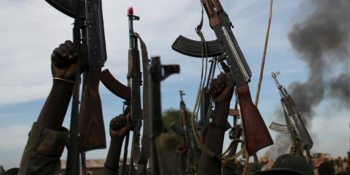 Fresh clashes involving the Sudan People's Liberation Army In-Opposition (SPLA-IO) forces under First Vice President Riek Machar and the breakaway faction loyal to Gen. Simon Gatwech Dual erupted in the Pieri area of Uror County, Jonglei State this morning.
"SPLA-IO would like to announce the fresh attack to the public that Dr, Riek Machar's forces led by Maj. General Michael Wal Nyak from Motot launched an unsuccessful attack to the SPLA (IO) forces under the leadership of Interim Chairperson and Commander in Chief, Gen. Simon Gatwech Dual early this morning at Peiri at 2 AM," William Gatjiath Deng, the military spokesperson for Gatwech's faction, said in a statement extended to Radio Tamazuj.
Gatjiath claimed they were able to repulse the attack without providing details about the casualties.
A commander with Machar's SPLA-IO 3rd infantry division in Jonglei, Lt. Colonel. Khor Nyang Mabor confirmed clashes erupted this morning.
"The issue started on September, 26. One of our frustrated generals called Brig. Gen. David Hoth Lual plus his followers, including Gen. Tutnyang Gatpal, declared defection from Dr. Machar and joined Gatwech Dual. The reason they got frustrated was due to the prolonged implementation of security arrangements. So, the group then decided to leave Pieri for Paritet village 10 kilometers from Pieri," Nyang said.
He added, "They were 20 in number who left but nine came back to us. So, this morning what had happened the community leaders went to convince them to leave their area but they responded aggressively, fighting the community up to Pieri. So, as SPLA-IO forces we responded and pushed them to their area."
Nyang pointed out that the clashes are still ongoing on the outskirts of Yuai town, and that details about the casualties remain scanty.
"After they were repulsed, our forces came back to Pieri. But the local youth, White Army have been pushing them towards Yuai," he added.
For his part, Lam Paul Gabriel, the SPLA-IO spokesperson, downplayed the incident, saying, "Pieri is our area. There is no presence of the Kit-Gwang Declaration there. What happened was that some family members to Gatwech Dual run away from Pieri to Motot."