Rival clans in Jonglei evacuate contested area, govt appeals for aid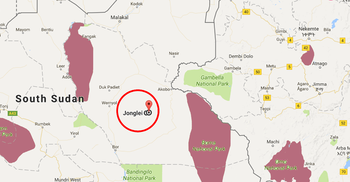 Photo: Jonglei map (retrieved from Google Maps)
Authorities in South Sudan's Jonglei State said rival clans in Bor South County on Friday started evacuating a contested area, which was the scene of fighting that left at least 16 people dead and 8 others injured over ownership last week.
The evacuation ispart of a deal brokered by Defense Minister Kuol Manyang and the local leaders of the two clans-the community of Nyara shall move to Jam and Nyan-Majok areas, while Nyichak, Awan, Biong and Mach Ayiel shall relocate to DDR, an area near Pariak.
Speaking to Radio Tamazuj on Sunday, Philip Aguer, Jonglei State governor said they receive information from the army command in Bor South area that the rival clans are leaving the contested village.
"Over 90% of the members of the rival clans have already moved to the designated areas as provided for in the agreement. The remaining people will also move away soon," he said.
The top government official in Jonglei described the security situation in the area as calm and relatively stable, adding neither side violated the deal since it was signed by six chiefs from the rival groups in Bor town.
The governor further said the civilians who have already relocated lack food, water and shelter in the new areas. He appealed for humanitarian aid as the communities resettle.