Rights body says Akol and Cirilo not options for change in South Sudan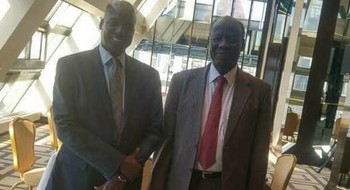 The Centre for Peace and Justice (CPJ), a rights entity in South Sudan, has urged the international community not to think about Gen. Thomas Cirilo and Dr. Lam Akol as an option to replace Salva Kiir and Riek Machar, saying the two men are not options for change in the country.
The National Democratic Movement (NDM) party leader, Lam Akol and the chairperson of the National Salvation Front (NSF) General Thomas Cirilo Swaka have recently visited the United States to rally for support.
In a statement seen by Radio Tamazuj today, CPJ's Coordinator Tito Anthony said the two rebel leaders are lobbying to take the country's leadership roles.
Anthony further said Akol and Cirilo can only be part of the government but not options for change in the leadership, as they have been part and parcel of the politics of the nation for long.
He stressed that President Salva Kiir and rebel leader Riek Machar should not be excluded from any governance solution because the solution to the South Sudan problem can only be solved by the two leaders.
"To solve a problem is not through avoiding it, if Riek Machar and Salva Kiir are problem than they can be part of solution as well. This conflict is difference of ideas between the two principal on how to deal with democracy, fighting corruption, governance issues and SPLM affairs," the statement reads in part.
The civil society activist added that for a successful peaceful transition that would unite the people of South Sudan, Riek Machar and Salva Kiir have to be included.
CPJ noted that the current peace agreement does not hold due to the absence of Riek Machar and to avoid another scenario like this, he should be involved in any process.