Rift looms as alliance suspends its member over peace deal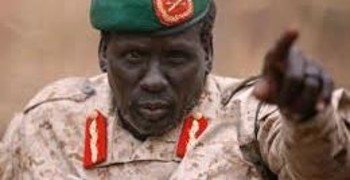 Photo: General Peter Gatdet Yak
The power sharing deal signed by South Sudan United Movement/Army (SSUM/A), a member of the South Sudan opposition alliance, could cause fresh crisis in the group.
South Sudan Opposition Alliance (SSOA), a consortium of nine opposition entities, on Thursday decided to suspend the membership of SSUM/A led by General Peter Gatdet Yak for taking a unilateral decision to sign a peace deal with the government and the opposition group led by former vice president Riek Machar in Khartoum on Wednesday.
The alliance's members except General Peter Gatdet Yak's group had declined to initial the peace agreement, saying some pending issues in the document needed more work.
In a suspension letter seen by Radio Tamazuj, the group suspended the membership of SSUM/A for signing the latest version of the power sharing proposal in defiance of SSOA leadership.
"On the basis of this information, the SSOA leadership deliberated on the matter and found that it is a contravention of Article 7(3) (b) and (c) of the Charter of SSOA," partly reads the suspension notice bearing the name of Gabriel Changson Chang, the interim leader of the opposition alliance.
The interim leader requested SSUM/A to present a satisfactory explanation for defying the alliance's regulations.
SSUM/A officials could not immediately be reached for comment.