Rice calls for action on border demilitarization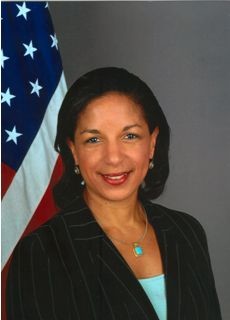 The US ambassador to the United Nations, Susan Rice, has stressed the importance of Sudan and South Sudan in implementing a demilitarized border zone following a meeting with the United Nations Security Council (UNSC).
She also requested that the Security Council exert pressure on Sudan to allow humanitarian access to people displaced in Blue Nile and South Kordofan states.
Rice told reporters that the two parties need to take a step forward through actively implementing the agreement that was signed in Addis Ababa last September without delay.
She welcomed a recent meeting held between the two presidents, Salva Kiir and Omar al-Bashir, in the Ethiopian capital a few days ago and the reassurance of their commitment to this agreement.
The Sudanese Ambassador to United Nations, Daffallah el-Haj Ali Osman claimed that the delay was partly due to ongoing engagement between Juba and Sudanese rebels in South Kordofan and Blue Nile.
The UNSC meeting also discussed arrangements for an upcoming political and security mechanism. It is hoped that this, in addition to the Abyei joint oversight committee, will help both Sudan and South Sudan complete demilitarization and implementation of the agreement.
Rice confirmed the US' support to the African Union's proposal in maintaining the special status of Abyei area as a bridge between the two countries, while ensuring the political and economic rights of the both the Ngok Dinka and Misseriya communities.
She also expressed her concern about the humanitarian situation in South Kordofan and Blue Nile and urged the Security Council to press Khartoum into allowing assistance to reach displaced populations.
Meanwhile, Philip Aguer, the South Sudan army's spokesperson, has denied Khartoum's statement yesterday claiming that the SPLA have withdrawn from border areas.
Stating that the withdrawal is to be a synchronized process implemented by both sides, Aguer called the statement "a political manoeuver"
Aguer spoke to Radio Tamazuj in response to the statement which claimed that the SPLA had launched an immediate withdrawal without preconditions from 6 areas 'within Sudanese borders'.
Photo: US ambassador to the United Nations Susan Rice (United States Mission to the United Nations)