Civil society, women representatives barred from peace talks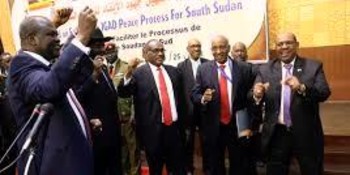 Representatives of civil society organizations, women, faith-based groups and business community have been barred from talks on security arrangements in Khartoum.
The South Sudanese civil society activists told Radio Tamazuj that they have been refused permission to take part in the ongoing talks aim at resolving the conflict.
The complaining delegates in Khartoum called on the East African regional bloc IGAD to intervene.
Edmund Yakani, Executive Director of the non-profit Community Empowerment for Progress (CEPO), said they have been isolated in Khartoum today.
Yakani said,"We are here not to stay in hotels drinking and eating, and not directly participating in the deliberations on our peace process. "
The renowned civil society activist called on the IGAD Special Envoy for South Sudan Ismail Wais to intervene. "The Sudan mediation is undermining us as delegates to the peace process. We are in Khartoum not to rubber stamp the peace process documents," he stressed.
The mediation team in Khartoum could not immediately be reached for comment.
The South Sudan parties have started talks today on security arrangements after the Khartoum mediation unveiled a new security arrangements proposal.