Released Aweil politicians return to Aweil town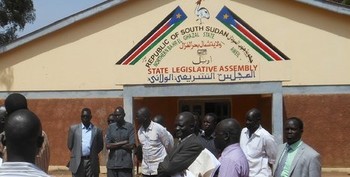 About seven Aweil politicians who were released by National Security Service in Juba have returned to Aweil on Monday.
The politicians were arrested and detained in April for alleged links with the newly declared rebel leader and former army chief Paul Malong.
The released are Deng Ayom Ayom, former Aweil state parliament speaker, Santino Mayuat Ngong, Aweil urban areas MP, Anguet Anei, chairperson for the parliamentary information committee, Simon Tong Deng, former deputy town mayor, Garang Kuac Ariath, former Aweil state secretary general and former county commissioner of Aweil West and three other political activists in the state.
Speaking to Radio Tamazuj on Monday, Deng Ayom Ayom, the former Aweil parliament speaker appreciated president Kiir for releasing them to resume their work.
Families of the released politicians gathered at the Aweil airstrip to receive them on Monday morning.