Regional protection force moves out of Juba airport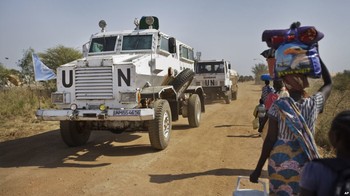 The United Nations-authorized regional protection force has moved out of the Juba International Airport and returned to its base on Yei road, a spokesman for the presidency said.
South Sudan government said recently that the regional protection force had attempted to control the Juba airport without any agreement.
South Sudan President Salva Kiir's spokesman Ateny Wek Ateny told Radio Tamazuj today that the RPF had already moved to its designated base at Jebel area since 22 August.
He said the government of South Sudan has resumed its cooperation and coordination with the United Nations after the redeployment of the RPF.
Ateny denied reports that President Kiir had ordered the army not to cooperate with the regional protection force.
The UN chief in South Sudan, David Shearer, said recently that the regional protection force was not deployed to control the main airport and key installations, but to protect civilians in the capital.
The 4,000 regional protection force was authorized by the UN Security Council to secure Juba after cashes resumed in July last year.