Regional leaders to hold mini-summit in Juba: opposition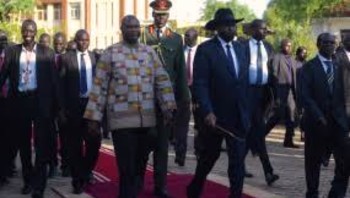 Regional leaders are set to hold talks on new ceasefire violations and confidence-building measures in Juba on the sideline of the peace celebration on Wednesday, a senior opposition official said.
Manawa Peter Gatkuoth, a deputy spokesman for the SPLM-IO, told Radio Tamazuj on Monday that the regional leaders will take part in talks on key areas of confidence-building and new violations of the signed ceasefire deal.
"We expect the IGAD leaders who will be attending the celebration to discuss the challenges facing the peace agreement now. We hope that the president will take decisions on those issues," his said.
Manawa further said opposition leader Riek Machar will go to Juba to celebrate the final peace deal to end the five-year civil war, pointing out that the opposition leader is not reluctant to return to Juba.
"Machar will spend hours in Juba. He will be there to attend the celebration of the peace agreement, "he said.
South Sudan's government has recently approved nearly 700 million Pounds for the celebration of the signed peace accord on Wednesday.
Last week, opposition leader Riek Machar said he would return to the country for Wednesday's celebration only if President Salva Kiir meets three demands: releasing all detainees, lifting the state emergency in the country and allowing free movement.