Region agrees on coordinated push for South Sudan peace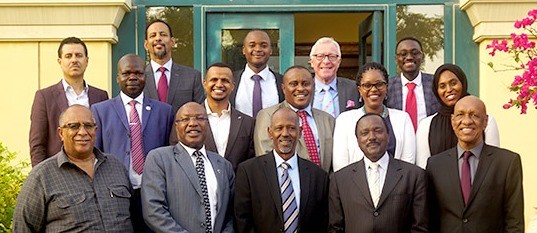 Regional special envoys met in Djibouti Thursday and agreed to improve their coordination on South Sudan's peace, IGAD said.
The IGAD special envoy for South Sudan, Ismail Wais, Kenya special envoy to South Sudan, Stephen Kalonzo Musyoka, and the Sudan special envoy to South Sudan, Jamal El Sheikh, met in Djibouti, to assess the status of implementation of pre-transitional tasks under the peace agreement.
The regional envoys met against the backdrop of the peace process that is at a critical stage with three weeks remaining before the 12th November deadline set for the formation of a unity government with critical tasks still pending.
"Mindful of the delay in the implementation of the R-ARCSS, the Envoys resolved to better coordinate efforts in engaging stakeholders and mobilizing the necessary support for the peace process in South Sudan," IGAD said in a press release on Saturday.
The East African regional body pointed out that the special envoys deliberated at length on critical outstanding tasks in the peace agreement namely: transitional security arrangements, number and boundaries of states, allocation of ministerial portfolios and the issue of the non-signatories to the peace agreement.
The body said the special envoys also agreed to meet on a more regular basis.
Last week, South Sudan opposition leader Riek Machar said that he will not be part of government in November if security arrangements are not completed.