Red Card Members freed after case withdrawn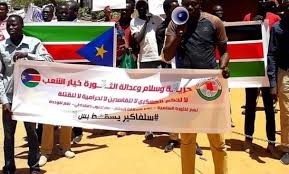 A Kenyan court has withdrawn the case of three members of South Sudan's Red Card Movement (RCM) for lack of evidence.
The three were charged with unlawful assembly after being arrested by Kenyan police during a peaceful protest in front of the South Sudanese embassy in Nairobi on July 9th, 2019.
The defense lawyer Paul Ogendi told Radio Tamazuj on Monday after a court session that the case was thrown out for lack of evidence.
"The prosecutor has withdrawn the charges pending the presentation of witnesses which they don't have. The case has been withdrawn under article 87 of the CPC which says they can withdraw but they can come back in the future if they get evidence," he said.
"We closed the chapter, they were released, and they are no longer accused persons. They are free people," he added.
The RCM chairperson in Nairobi Makoi Majak, who was accused along with two others, said they are now free to engage in the movement's activities.
"The court case has stopped me from doing so much. Now since it is thrown out, we are working to mobilize the people to protest against the government which has no will to implement the agreement," he said.
The Red Card Movement, a South Sudanese youth group has been calling for nationwide protests against President Salva Kiir's administration for allegedly failing to restore permanent peace in the country.