Reconciliation begins between Twic East clans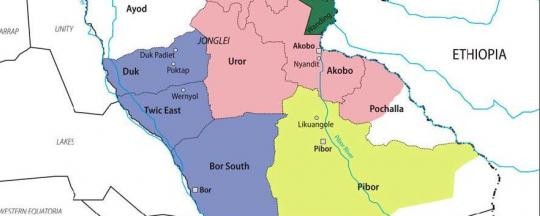 Reconciliation began on Friday between two clans with longstanding land disputes in Twic East County, the county commissioner announced.
The Ayual and Dachuek clans have disagreed for three years over who owned Wangulei area. Twenty five young men were killed in 2011 during clashes over the land.
Wangulei is a payam with headquarters of the Dachuek, Ayual, and Awulian clans. Twic East County commissioner Dau Akoi Jurkuch said they managed to bring the two clans to agree over the name of Payam headquarters.
"As the government we have no side over the land ownership, but what we told them the land belonged to the government," Dau said.
The two clans spoke with local religious leaders before meeting with the county authorities.
Dau said that after the reconciliation members of the two clans shared water and food together.
Dau said blood money will be paid soon for those who lost money in the fighting according to Dinka customary law, but he did not specify when the payment would take place.
For breaking news updates from Radio Tamazuj 'like' our page on Facebook, follow us on Twitter, or subscribe to our RSS feed.