Rebels say optimistic about peace deal in Addis Ababa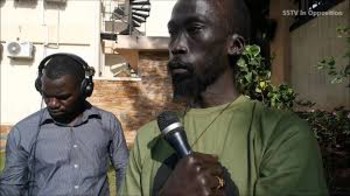 Mabior Garang, eldest son of late John Garang de Mabior, founder of the South Sudanese ruling party, the Sudan People's Liberation Movement (SPLM), said that he is optimistic about achieving a peaceful settlement in the war-torn country.
Speaking to Radio Tamazuj on Wednesday night, Mabior, who is the chairman of the SPLM-IO's national committee for information and public relations, said peace talks are progressing well in Addis Ababa.
"I don't want to elaborate on the issues we are discussing inside but talks are going well. I am optimistic that a final peace will be achieved this time round and it will not be like the previous agreement," Garang said.
The senior rebel official said the East African regional bloc IGAD has shown its seriousness to bring about peace in South Sudan.
He pointed out that the opposition groups at the ongoing peace talks have started to unify their position on how to bring about peace in the country. "We are still working hard on how the opposition can unite its rank," he said.
"What brought us together as opposition groups is peace. We want the ongoing war to stop, and we cannot stop it without coming together to bring peace," he added.
Mabior called for the immediate release of prominent opposition leader Riek Machar from his forced confinement in South Africa. "The opposition groups are demanding the release of Dr. Riek," he said.