Rebels say 15 war prisoners freed in Phow State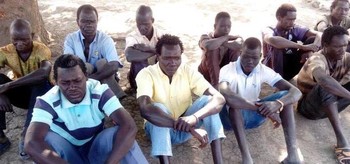 South Sudanese rebels allied to the former First Vice President Riek Machar said they have released 15 prisoners of war, and handed them over to International Committee of the Red Cross (ICRC) in 'Phow State', located in what is otherwise known as Fangak State on Sunday.
Rebel deputy spokesperson, Lam Paul Gabriel, said in a statement that the war prisoners were airlifted from Kolopach airstrip at New Fangak area by the ICRC to the capital Juba.
However, the rebel official said the released prisoners of war refused to go to Juba allegedly for fear of repercussions by the government.
"The SPLA-IO welcomes their decision and gave them the freedom to live among the displaced people in the State," he said.
According to Lam, it was the third time the rebels were acting in compliance with the signed cessations of hostilities deal.
He urged the East African regional bloc (IGAD) and the Troika group to put pressure on the government in Juba to respect the signed ceasefire deal.
The release of prisoners of war in Phow state comes after the 14-day deadline agreed in the ceasefire agreement by the warring parties on the release of prisoners of war being held on both sides elapsed earlier this month.
The deal also called on the warring parties to surrender children recruited in their ranks to the UN children's agency (UNICEF) in the stipulated period.