JUBA/NAIROBI -
20 Apr 2018
Rebels reveal a $5 million alleged plot to kill Malong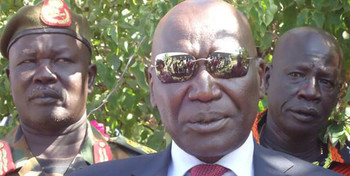 File photo
Members of South Sudan's United Front, a rebel group led by former army chief Gen. Paul Malong, claimed they have discovered a $5 million alleged plot to kill their leader.
Sunday de John, a spokesman for the South Sudan United Front (SSUF), told Radio Tamazuj on Friday that the alleged plot to assassinate Gen. Paul Malong and his associates originated with National Security Service (NSS).
"Last week, National Security Service had requested the president's office to approve $5 million. But an amount of $850,000 was approved as the first installment because they said no money in the bank right now," Sunday said.
"We know the person in charge of the plot, but we do not want to reveal the name. She is a senior South Sudanese government official working in Nairobi," he added.
The rebel official said they will exert efforts to fail the plot."The lady tasked to implement the plot is in Nairobi to bribe agents so that they kill us," Sunday alleged.
For his part, President Kiir's spokesman Ateny Wek Ateny dismissed the allegations that the government had rolled out a security strategy aimed at assassinating the former military chief, Paul Malong Awan.
"These are pure lies … It is not a South Sudanese culture to assassinate political and armed opponents," Ateny said.
Gen. Paul Malong, who was sacked last May and placed under house arrest before being released in November 2017, formed a rebel movement last month to challenge President Salva Kiir.
The government claimed recently that it had paid Paul Malong during his time in office, $5 million as part of a plot to assassinate the country's main opposition leader Riek Machar in July 2016.