Rebels claim new clashes with gov't in Fashoda, gov't denies claims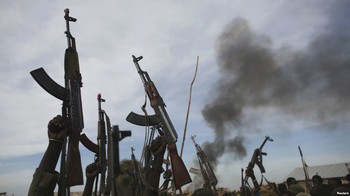 File photo: Rebel fighters hold up their rifles as they walk in front of a bushfire in a rebel-controlled territory in Upper Nile state, South Sudan Feb. 13, 2014.
Rebel leader Riek Machar's forces claim government forces launched attacks on their defensive positions at Ajuk of Fashoda State on Tuesday evening.
Speaking to Radio Tamazuj on Wednesday, rebel-appointed information minister spokesman in Fashoda State Moses Akiech Kur accused government forces of attacking their troops in Ajuk but said they were able to repulse and kill 5 government soldiers.
But the state information minister from the government side, Othur Koch, denied the claims. Instead, he accused the rebels of clashing with Sudanese forces in northern Kordofan.