NORTHERN LIECH -
16 Apr 2018
Rebels claim capture of areas around Bentiu, govt denies claims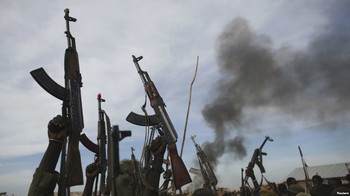 Opposition forces loyal to rebel leader Riek Machar claim they captured Nhialdiu, Boau and Tharkan areas around Bentiu in Northern Liech State this morning after government troops attacked their defensive positions, a claim the government denies.
SPLA-IO deputy spokesman Lam Paul Gabriel told Radio Tamazuj on Monday that their forces responded to continuous attacks by government forces on their defensive positions.
"The government attacked us near Nhialdieu. They started since 7 days ago; they attacked us in Bau, in Tharkan. Then yesterday our forces said if they attack them again, they will respond. So they attacked us again this morning and our forces responded. We captured Nhialdieu, Bau, Tharkan and the forces are now advancing towards Koch," he added.
Paul said the cessation of hostilities agreement was signed by both parties and should therefore be respected by both parties.
But Northern Liech State information minister Lam Tungwar denied the claims saying the rebels have not captured any area and instead said they only responded to an attack by the rebels.
"These are all lies; they did not capture any area. They attacked our forces in Nhialdieu at 5 in the morning. Our forces fought them for 45 minutes. 8 of them were killed including the leader, a Brigadier General Bouth Riai Guandong. This is the person responsible for killing of the doctor last week and the one causing insecurity in the area," Tungwar said.
The government official further said that they lost one soldier and three others who were wounded from the clashes are receiving treatment in Bentiu.
The clashes near Bentiu have been on-going since last week, a clear violation of the cessation of hostilities agreement signed by both parties in December 2017.