Rebels accuse government troops of attack in Koch as peace talks progress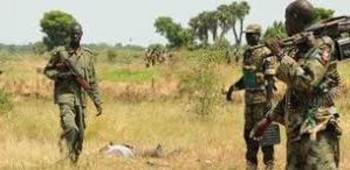 South Sudanese rebels accused the government army of attacking one of their bases this morning in the area of Buaw in Koch County in Northern Liech State as peace talks progress in Addis Ababa.
Rebel spokesman William Gatjiath Deng claimed in a statement that government troops attacked a rebel base in the area of Buaw after leaving their base in the area of Rier, some 25 kilometers away from Bentiu.
He pointed out that fighting was still containing. The gallant SPLA-IO forces under command of Cdr Major General Dok Wanjang continue to engage the Juba regime," he said.
Army spokesmen Lul Ruai Koang denied knowledge of any clashes with rebels in Koch when called by Radio Tamazuj this morning. Northern Liech State Adviser John Maluk also denied reports of attacks on rebel positions in Koch County.
The talks in Addis Ababa convened by the East African bloc IGAD entered its sixth day. Today's negotiations focused on Article 13 which provides for revitalization of pre-transitional period and national constitutional amendment mechanism.
The government delegation at the peace talks on Friday refused to sign an agreement on declaration of the principles which would be the basis of the talks, citing discontent about punitive provision in the document. The opposition groups strongly supported the provision and signed the document.