Rebels accuse govt of attacks in Yei, killing 3 civilian women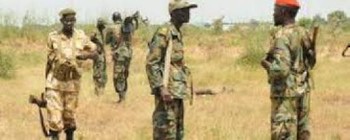 SPLA-IO rebel forces have accused government troops of attacking their defensive positions and killing three women in Morobo County of Yei River State on Tuesday, a claim the government has denied.
According to a statement seen by Radio Tamazuj, the rebels claimed the women who were fetching water from a borehole were shot and died on the spot by SPLA soldiers who were retreating.
The rebels also claimed that government troops raided an unconfirmed number of cattle and other valuables and displaced civilians in the area.
In addition, the statement condemned the attack saying it undermines the spirit of the on-going negotiations in Khartoum while urging monitors to the ceasefire agreement to investigate the attack.
When contacted for comment, government military spokesman Lul Ruai Koang told Radio Tamazuj on Wednesday that there are no reports of attacks or any confrontations between government troops and rebel forces in Yei. He said the reports are mere rebel propaganda.