NGO-BAGGARI -
15 Jun 2018
Rebels accuse government of fresh attack in Ngo-Baggari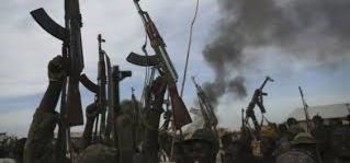 Rebel fighters said Friday that an attack on their position near Ngo-Baggari in Wau State has killed at least two rebel soldiers, allegations denied by the government.
Nichola Gabriel Adam, spokesman of the opposition group led by former vice president Riek Machar in Western Bahr al Ghazal, told Radio Tamazuj today attacked their positions came under attacks since Thursday.
"Fighting is still ongoing in Ngo-Baggari. The government attacked our positions and we are fighting back," he said.
The rebel spokesman said two soldiers were killed from their side during fighting in the area of Ngo-Baggari on Thursday.
He accused the government of violating the cessation of hostilities agreement signed in December last year.
Wau's local government minister Arkangelo Anyar Anyar said their forces did not attack any rebel positions in Ngo-Baggari.
SPLA army spokesman Lul Ruai Koang said he had no official report on the alleged fighting.
The reported fighting could not be independently verified.