Rebel group joins Malong's rebel movement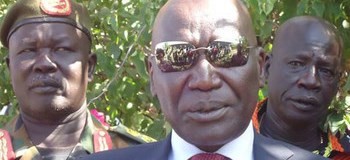 File photo: Gen. Paul Malong
South Sudan United Liberation Movement, a rebel group commanded by a former SPLA general who defected last year, has joined Paul Malong's rebels.
The rebel group led by Gen. Zachariah Monyjiek Baguot who hails from Ruweng State was formed in November 2017.
Speaking to Radio Tamazuj this evening, Gen. Baguot confirmed that his forces had joined the rebel group led by former army chief turned rebel leader, Gen. Paul Malong on April 28.
"We have decided to unite our ranks since we have one goal to overthrow the incumbent government," he said.
"The decision was taken after consultations in the bush. Since General Malong has realized that the government is not going in the right direction, we have no problem with him," he added.
Baguot pointed out that his forces are currently maintaining their defensive positions in various areas in the country and the common borders with Sudan and Congo.
The rebel general noted that his group is fighting against the Kiir administration to make reforms in South Sudan. "We met with the forces of General Malong in the bush and we want to implement SPLA's vision adopted in 1983," he said.
Last month, former military chief Paul Malong formed a rebel movement to challenge President Salva Kiir, accusing him of looting the country's resources and turning it into a failed state.