Rebel group claims capture of two areas in Northern Bahr al Ghazal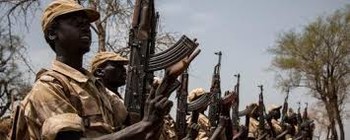 File photo: Soldiers in South Sudan
A rebel group calling itself South Sudan Patriotic Army (SSPA) announced Wednesday the capture of Warguet and Malek Gumel areas in Northern Bahr al Ghazal after allegedly clashing with government troops.
The group fighting to topple Kiir's government in Juba is under the command of Agany Abdel-Baqi Ayii Akol, a native of Aweil area.
SSPA spokesperson Deng Mareng told Radio Tamazuj that their forces managed to capture Malek Gumel area near Majok Nyinjthiou town on Tuesday after controlling Warguet area in Aweil East state on Sunday.
Mareng claimed that their forces were heading to Malualkon, the home town of former SPLA Chief of General Paul Malong Awan.
A police officer, who preferred anonymity because he was not authorized to speak publicly, told Radio Tamazuj from Wanyjok town that the rebel group loyal to Ayii Abdel-Baqi had captured Malek Gumel area.
But the officer dismissed claims that the rebels took control of Warguet town. "This is a total lie. These are criminals, they [rebels] have not captured Warquet town, but I was informed that the rebels have captured Malek Gumel on Tuesday," he said.
Meanwhile, Aweil East Police Commissioner, Maj. John Daak dismissed claims that the rebels managed to capture Warguet and Malek Gumel areas in Aweil East this week.
"What happened on Sunday is that, there was an attack by Misseriya raiders near Malek Gumel, but they were repulsed at the same time," he said.