Rebel commander ousts SSPM's leader Costello Garang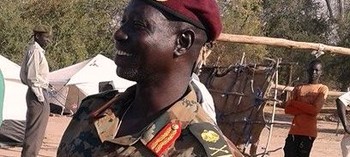 Photo: Gen. Agany Abdel-Bagi
A top rebel commander of the South Sudan Patriotic Movement/Army (SSPM/A) has declared himself interim leader of the movement, ousting his boss Costello Garang Riny.
General Agany Abdel-Bagi Ayii Akol told Radio Tamazuj this evening that he is now the new leader of the opposition South Sudan Patriotic Movement/Army (SSPM/A).
"Our political and military leadership met and resolved to oust Dr. Costello Garang and selected me to be the new leader when Costello rejected the agreement. I insisted and signed the agreement on behalf of the movement, "he said.
Agany accused his former chairman of continuing hostility against the Juba government despite the signing of the Khartoum peace deal.
Agany, who was leading the military wing of the rebel movement, further said his appointment as the new leader will not spoil the ongoing peace efforts.
"The declaration was on 13 August. I am now part of the peace talks and the South Sudan Opposition Alliance (SSPA), so I want to reassure the public that there is no any problem at all," he explained.
The top rebel general revealed that he will restructure the current negotiating team of the SSPM/A, saying the negotiating team in Khartoum was appointed by former leader Costello Garang.
"We will sit and discuss whether to withdraw the negotiating team or not, "he said.
Costello Garang could not immediately be reached for comment.