Rebel commander killed in clashes in Yei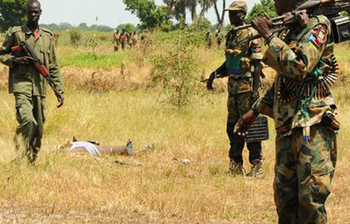 Photo: Sudan People's Liberation Army (SPLA) close to Malakal, South Sudan, October 16, 2016. (REUTERS)
A rebel commander allied to the country's former first vice president Riek Machar was killed in clashes with government troops in Yei River State on Monday morning.
Rebel deputy spokesman said in a statement extended to Radio Tamazuj that Major Felix Likambo Faustino who was the base commander for Yankonye base was killed when the government forces launched an attack on their base, pointing out that another soldier was also injured from their side.
He further said the clash at Yankonye, some 5 miles away from Yei town, claimed the life of the base commander, Major Felix Likambo.
"This morning (Monday) at about 6:00 am, SPLA moved out of their trenches in Yei town and attacked SPLA-IO bases at Yankonye (5 miles Yei-Maridi road) and at harvesters (3 miles Yei-Maridi road) and killed our base commander Maj. Felix Likambo Faustino and wounded one soldier," he said.
The statement said the attack in which the commander was killed had forced the rebels to withdraw tactically from the area to avoid civilian casualties due to crossfire.
"The regime has been airlifting troops and military logistics to Pagak since yesterday the 25 February 2018 in preparation to launch coordinated attacks on SPLA IO bases in and around Pagak and Nasir," he said.
The rebel group directed its fighters to be on alert at all fronts, while calling upon the international monitoring mechanism, also known as CTSAMM, to investigate these activities as soon as possible.
Government officials could not immediately be reached for comment.