Rebecca Garang returns to Juba after years in exile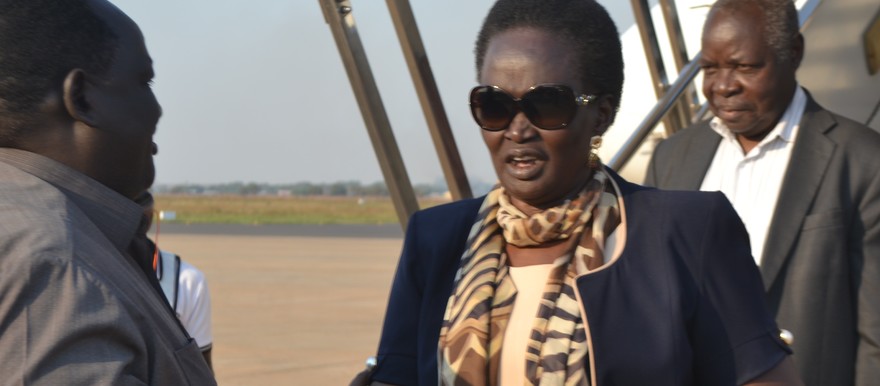 Photo: Rebecca Garang and her delegation arrive in Juba on Saturday, 22 December 2018. (Radio Tamazuj)
Rebecca Garang has returned to the South Sudanese capital Juba from Nairobi this afternoon after years in exile.
Rebecca is the widow of John Garang de Mabior, the founder of the SPLM/A, who died in a plane crash in 2005, leading to Salva Kiir's takeover of the party leadership. She has been loosely associated with the SPLM "Former Detainees," high-level SPLM politicians who were arrested by the government in December 2013.
Mama Rebecca said today, "We have come here to join the people of South Sudan so that we put our hands together and our heads together for peace."
"Also, we want to join President Salva Kiir Mayardit so that we put our heads and our hearts together so that we can salvage whatever is there in the peace for the people of South Sudan."
Rebecca, who maintains that she is the "mother of all", apologised for the immense suffering caused by the country's five-year civil war. "There is no leader without people and there are no people without the leader. So we are begging the people of South Sudan to give us another opportunity for three years so that we can lead them," she said.
"I want to join hands with President Salva Kiir Mayardit to say we are very sorry as leaders of South Sudan, especially myself if there is anything that I have done wrong to the people of South Sudan, I want to say today that I am very sorry. I want to join hands with you and I appeal to the people of South Sudan to forgive us as leaders of South Sudan," she added.
Members of the group led by Rebecca Garang today include Kosti Manibe, Atif Kiir, Majak d'Agoot, Gier Chuang and others.
Tut Gatluak, the presidential adviser for security affairs, received Rebecca and her team on behalf of the government. He said, "We are happy to receive Mama Rebecca and her delegation… We are very happy because peace has been restored in South Sudan."
Dhieu Mathok, the minister of electricity, was also at the Juba Airport this afternoon to receive Rebecca Garang and the SPLM-FDs delegation.