Rebecca Garang happy with Bashir's role in peace talks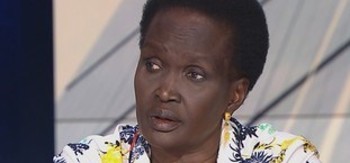 Photo: nyandeng de Mabior
Rebecca Nyandeng de Mabior, the widow of SPLM founder John Garang has welcomed Sudan's role in negotiations for peace in the troubled nation.
"We are happy with the role of President Omar al-Bashir. He is the elder brother, so he is the most qualified person to mediate the South Sudanese peace process," Nyandeng de Mabior, a government critic said.
South Sudan President Salva Kiir and the opposition on Wednesday signed a framework agreement in Khartoum under the auspices of Sudan's President Omar al-Bashir.
Nyandeng, a former presidential adviser who also maintains that she is the "mother of all" in war-torn South Sudan, said she is satisfied with the start of the peace talks in Khartoum.
"I am happy with the start of the talks. It is good so far," she said.
The South Sudanese politician hopes that the negotiations on the outstanding issues will bring peace in the country.