Rebecca Garang calls for women's emancipation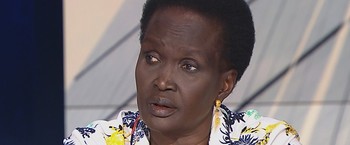 File photo: Rebecca Nyandeng
Rebecca Nyandeng de Mabior, the widow of SPLM founder John Garang, has called on the country's leadership to formalize women's emancipation.
Speaking to Radio Tamazuj today ahead of International Women's Day ' Nyandeng said South Sudanese women needed to be recognized and given the same treatment as men in the country.
"South Sudanese women are currently suffering. Women in South Sudan have been living in conflicts and marginalization," she said.
Nyandeng pointed out that the International Women's Day is a day of recognition and celebration of women globally, but South Sudan women do not celebrate any achievements because of the ongoing conflict. "South Sudan women are dying of diseases and hunger. They are suffering from negative cultural practices," she said.
She called on the leadership to recognize the value that women bring collectively to the nation. "Women need to be empowered in South Sudan so that they can help in development," she said.
Nyandeng, a government critic who also maintains that she is the "mother of all" said South Sudan's leaders should exert great efforts to bring about peace in order to empower women.
"During the recent peace talks, there were no more women. Development will not be achieved in the country if women are not part of it," se said.
The South Sudanese politician said the issues facing women and gender equality and more powers for women need to be addressed by the top leadership of the country. She also called on the South Sudan women to be patient and pray for peace and stability.
International Women's Day is a worldwide event that celebrates women's achievements – from the political to the social – while calling for gender equality.
It has been observed since the early 1900s and is now recognized each year on March 8.