Protests in Aweil to demand release of Paul Malong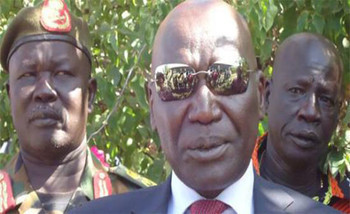 Intellectuals, members of disabled union and other groups in Aweil have been protesting since Monday against the South Sudanese government's detention of former army chief General Paul Malong Awan.
Malong, who hails from Aweil East, is being confined to his home in Juba for security reasons. He was sacked in May by President Kiir after resignations by senior military officials.
The demonstrators carried banners demanding the release of General Paul Malong upon the arrival of the national dialogue subcommittee in the town of Aweil on Monday.
Moses Kiir Yum, Chairman of Northern Bahr al Ghazal's Disabled Union, told Radio Tamazuj on Wednesday that they want President Kiir to release General Paul Malong from his house arrest in Juba. Yum commended Kiir for initiating the national dialogue to make peace in the country.
Achak Thiep, a member of Lol state parliament, said they are not against the national dialogue launch by President Kiir in May, but they only demand the release of General Paul Malong.
The state legislator pointed out that the national dialogue will not succeed if some people are excluded from the process.