Protests cannot change Sudan government – Bashir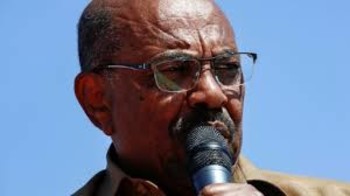 Sudan's President Omar al-Bashir says despite weeks of demonstrations against his 30-year rule, only elections and not protests could be used to change his government.
"The government in Khartoum cannot be changed by protests or through someone from outside. It can only be changed by the people of Sudan through the ballot box," Bashir told a rally of his supporters in Nyala town of South Darfur State on Monday.
The 74-year-old leader challenged his rivals to face him at the next presidential election, and accused unnamed foreign enemies of trying to destabilize Sudan.
A former army officer who overthrew the elected government in 1989, Bashir has since repeatedly won presidential elections that his opponents have challenged as neither free nor fair.
On Sunday, crowds of anti-Bashir protesters chanted "Freedom, Justice, the people want the downfall of the regime" in the capital's district of Khartoum North and other areas, including war-torn region of Darfur. The protesters were quickly confronted by police forces.
The Sudanese leader promised to solve the economic crisis.
Sudan has been rocked by anti-government protests that erupted on 19 December after a government decision to raise prices of bread and have since morphed into nationwide demonstrations calling for Bashir's ousting.
The government says at least 24 people have been killed during the protests but Amnesty International has put the death toll at 40.