Proposal to buy private jet for Kiir faces opposition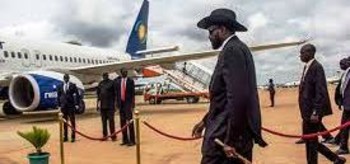 South Sudan's parliament has not given the green light to a proposal to buy a multi-million dollar jet for President Salva Kiir, a lawmaker has said.
The parliamentary committee for finance on Wednesday proposed that the government should buy a presidential jet, saying the plane should have eight passenger seats.
Supporters of the proposal say there is a need for the country's leader to have safe air transport.
Paul Yoane Bonju, the head of the parliamentary committee for information, said many MPs rejected the proposal to spend a lot of money on a presidential jet.
He explained that the lawmakers argued that the money could be better spent to alleviate the suffering of citizens. Bonju revealed that some MPs also came up with a proposal to build a residence for President Kiir in his hometown in Akon.
"But the Members of Parliament who got the chance to contribute decided that the two proposals are not important," Bonju said.
"Instead the MPs want the money to be used for youth development and they want the money to be diverted to the constituency development fund," he added.
According to Bonju, the government will not go ahead with the proposal after many legislators blocked it. "The assembly said it is not workable and it cannot be considered in the current economic situation," he said.
It is the first time a presidential jet has been proposed by members of the national legislative assembly.
South Sudan government currently charters planes from Rwanda Air and Kenya Airways for use by President Kiir.
This month, South Sudan's oil output has increased to 180,000 barrels per day following resumption of oil production at Block 1&2 in Manga Oilfield, which was shut down six years ago due to insecurity in Unity region.