Profile: South Sudan's new finance minister Salvatore Garang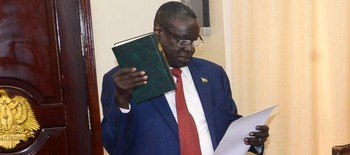 South Sudan's President Salva Kiir appointed Salvatore Garang Mabiordit as his new finance minister in a reshuffle on Monday. Here are some key facts about Mr Mabiordit.
In 1970-1973, he was awarded an economics degree by the University of Liberia in Liberia.
In 1981-1982, Garang obtained a postgraduate diploma in development finance, University of Birmingham, UK.
1983-1991, he worked as a director of international audit and inspection, Council of Ministers in Wau, Bahr al Ghazal region.
In 1994-1995, Garang was a director general of finance in the ministry of finance in the defunct Warrap, Southern Sudan.
He had also served as a director of accounts, regional ministry of finance, Wau.
In 2001-2002, Garang worked as an assistant administrator for MSF Switzerland at Marial Lou Hospital in Tonj.
In 2002-2004, he worked as an administrator for Sudan Integrated Mine Action Service (SIMAS) Nairobi, Kenya.
2004-2008, Garang was an interpreter in Australia.
In 2008, he was appointed as the First Undersecretary in the Ministry of Finance and Economic Planning. Before being appointed by Kiir as the new minister of finance on Monday, Garang was working as the technical adviser in the ministry of trade.
The new minister was appointed amid rising inflation and a broke government ravaged by the five-year-old devastating civil war.
Deng Santino Wol, a South Sudanese economist in the United States questioned the wisdom behind changing finance ministers.
Lual Acuek Deng, a renowned South Sudanese economist who is now the managing director of the Ebony Centre for Strategic Studies, pledged readiness to working with any minister of finance in the service of South Sudan.
Lual, a former petroleum minister in Sudan, said he was not sure how the parallel market would react to the new changes at the ministry of finance.