Pressure mounts on parties to form unity government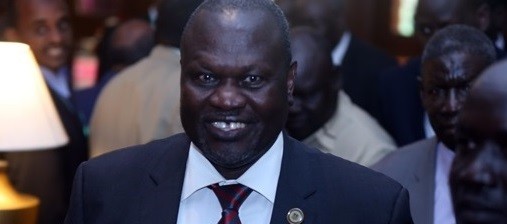 File photo: SPLM-IO leader Riek Machar
The UN Security Council on Tuesday asked the rival parties to resolve pending issues to allow for the formation of a unity government as originally planned.
This comes as global pressure mounts on South Sudan's rival leaders to establish a transitional government by November 12.
The parties opted out of the initial deadline in May, citing unimplemented provisions in the agreement spearheaded by the East African regional bloc IGAD.
The 15-member council said in a statement that senior leadership of the parties to the peace deal should continue to hold regular face-to-face meetings to resolve outstanding issues to allow for "the peaceful formation of a transitional government according to the timeline agreed to by the parties in May and reflected in a communiqué by the Intergovernmental Authority on Development (IGAD)".
The UN's most powerful body called on the parties to the peace deal to expedite the process of implementing security arrangements and to continue consultation on the issue of the number and boundaries of states with a view towards finding a common solution.
It urges the government of South Sudan to disburse the balance of its pledged funds for implementation of the peace agreement in a transparent and accountable manner, and continue to make funds available for ongoing implementation of the agreement.
The Security Council called on holdout opposition groups to renounce violence, adhere to cessation of hostilities agreements, and seek a political resolution to their concerns about the agreement, and further called on the parties to the peace deal to engage with non-signatories in a non-violent manner.
The council reiterated its support for the people of South Sudan, saying the revitalized peace deal is an important step forward in the peace process that provides a window of opportunity to achieve sustainable peace and stability in South Sudan.
Amid mounting global pressure on South Sudan's leaders to implement the peace agreement, a UN Security Council team will visit the country towards the end of this month to put their weight behind the political process.
President Salva Kiir, opposition leader Riek Machar and a number of other opposition groups signed the peace agreement in September 2018, but the rival leaders had been unable to create a unified army and determine the number of states since the deal was signed.
The main opposition group, the Sudan People's Liberation Movement-In-Opposition (SPLM- IO) on Monday rejected a push for a unity government in November without proper security arrangements and agreement on the internal boundaries of states.
A faction led by opposition politician Lam Akol also said outstanding issues need to be addressed before a unity government could be formed.