President Kiir urges for local peace initiatives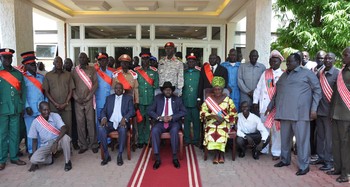 President Salva Kiir says South Sudanese leaders should explore internal peace and reconciliation mechanisms to resolve the country's conflict.
Kiir was addressing a delegation of Nuer and Dinka chiefs and top government officials including presidential advisor and government chief negotiator Nhial Deng Nhial and the presidential advisor for security Tut Kew Gatluak who met him at his office in Juba on Tuesday.
According to presidential spokesperson Ateny Wek Ateny, the meeting called on traditional leaders to play a more positive role in resolving the conflict.
"His excellency the president of the republic was clear to the chiefs of the two tribes and asked them to be courageous in order to achieve peace and social reconciliation in the country. The president made the emphasis on giving internal initiatives an opportunity to promote peace from within instead of looking to outsiders. Our communities are capable of resolving differences," explained Ateny.
Ateny further cited the 1999 Wunlit peace conference between the Dinka and Nuer communities as an example of an internal initiative that brought together the two warring communities.
One of the chiefs, Nyalieth Khor, a Nuer woman expressed their readiness to work for lasting peace between the two tribes and with other communities for reconciliation to happen.
For his part, the government chief negotiator Nhial Deng Nhial stressed the importance of dialogue among traditional and political leadership as an integral part of the negotiations, reviving the peace agreement and the national dialogue process.