President Kiir swears in three new governors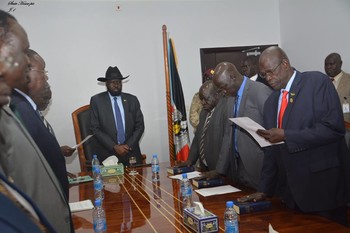 South Sudan's President Salva Kiir on Tuesday oversaw the swearing-in ceremony of the three state governors who were appointed recently at J1 in the capital Juba.
The three governors who took oath of office before President Kiir are John Kong Nyuon for Fangak State, Victor Atem Atem for Gogrial State, and Angelo Taban Biajo for Wau State.
After the official swearing-in, President Kiir congratulated the newly appointed governors and said that citizens need peace in all states.
"One of the governor's main objectives is to connect and be a link for the people between the state level and the national government. When a governor fails to deliver his duties, it means that the government has failed. This is not what the people want. They want you as the state governor to be an effective link and facilitate the communication between them and the government," he said.
President Kiir advised the new governors to work hard for the national dialogue's success in their states.