President Kiir reconciles with ousted army chief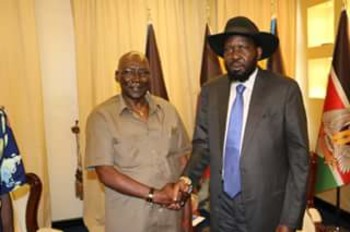 Photo: Kiir and Malong shake their hands after reconciliation. (Radio Tamazuj)
South Sudan's President Salva Kiir has reconciled with the former army chief Paul Malong whom he removed from office last week via a republican decree, a presidential spokesman said.
The misunderstanding between Kiir and Malong started after the latter left Juba shortly after being removed from his position together with some senior army officers without handing over the office to his successor Gen. James Ajongo Mawut.
Kiir and Malong met at the presidential palace on Thursday in the presence of several government officials, including Amb.Telar Riing Deng, who was one of the officials who persuaded Malong to return to the capital.
In a press statement after the meeting between Kiir and Malong on Thursday, South Sudan's presidential, Ateny Wek Ateny said the reconciliation followed protracted discussions in which President Kiir and Gen. Malong accepted their mistakes and agreed to work together again as comrades.
Ateny, who is also the presidential press secretary, explained that the discussions between the two leaders took a form of recollection went back to the liberation struggle to recall how they met and what they did as comrades during that time.
Ateny assured the people of South Sudan that there was nothing to worry about again after the two men have reconciled. President Kiir and Gen. Malong, according to Ateny, have decided to work together and join hands for the betterment of South Sudan.
Malong, a strong ally of Kiir and key player in the ongoing ethnic conflict in South Sudan, was perceived by many as a hardliner in the current government in Juba.
In September 2016, a UN panel of experts said that heavy fighting that engulfed Juba in July 2016, forcing former vice president Riek Machar to flee, was directed by the highest level of the country's military.
The UN report pointed the finger at President Kiir and Paul Malong as having ordered the large-scale attacks that began on July 8, 2016.