President Kiir pardons army officers who left Juba with ousted army chief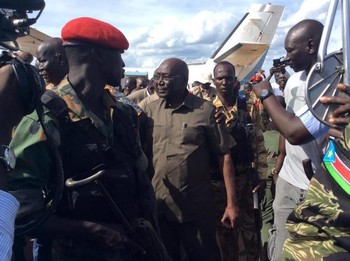 Photo: Paul Malong returns to Juba on May 13, 2017 (Radio Tamazuj)
South Sudan President Salva Kiir has pardoned all soldiers and senior army officers who left Juba together with ousted army chief Paul Malong last week, Kiir's spokesman announced.
General Paul Malong withdrew with his security guards and some senior military officers to outside of Juba after being removed on Tuesday heading for his home state of Aweil, but he was persuaded by government officials and Dinka community leaders in Yirol town to return to Juba after security assurance from Kiir.
"The fear for generals, brigadiers, two lieutenant colonel and captain as well as the soldiers who left with Malong to Bahr al Ghazal, the president said that those who left with Gen. Paul Malong, they are now pardoned," said Ateny Wek.
Ateny pointed out that the soldiers and senior military officers who left Juba together with Gen. Paul Malong would have been punished because they left without permission, but President Kiir decided to pardon them.
He pointed out that President Kiir also accepted to convene a face-to-face meeting with Paul Malong in the presence of mediators.