President Kiir arrives in Kapoeta for first visit since outbreak of conflict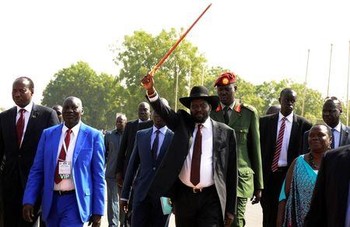 South Sudan's President Salva Kiir has arrived in Kapoeta State this afternoon for the first visit since the outbreak of civil war in the country in 2013.
Speaking to reporters in Juba today, Deng Alor Kuol, South Sudan's Minister of Foreign Affairs, said Kiir's visit to Kapoeta town is part of his general visits to states.
"The president wants to see the people of South Sudan and go to talk to the local administration there, the governors and talk to the people," said Alor.
"It is very important this time when we are mobilizing our people for national dialogue and national reconciliation, so in that context, the president has decided to visit Kapoeta," he added.
Alor pointed out that President Kiir would encourage the people of Kapoeta to cultivate during this year's rainy season instead of relying on food aid provided by international humanitarian organizations.