President Bashir awarded an honorary degree at University of Juba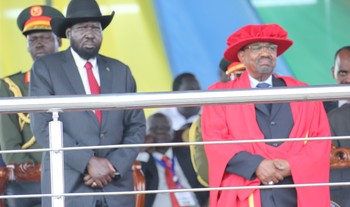 Sudanese President Omar Hassan Al Bashir has been awarded an honorary doctorate by the University of Juba on Wednesday in recognition for his role in bringing South Sudanese warring parties to sign a peace deal.
University of Juba Vice Chancellor Proffessor John Akech while presenting the award said the university's Senate decided to honor President Bashir with a Doctorate of Philosophy in Peace and Diplomacy from the Institute of Peace, Development and Security studies.
Akech said Bashir is being honored for bringing the South Sudan warring parties to sign the final revitalized agreement signed on 12th September 2018 in Addis Ababa Ethiopia.
He added that Bashir is also honored for leading Sudan since 1989 to the signing of the Comprehensive Peace Agreement in 2005 and for his recognition of South Sudan referendum outcomes leading to South Sudan's independence in 2011.