Presidency, national security accessing Radio Tamazuj website while citizens being 'blocked'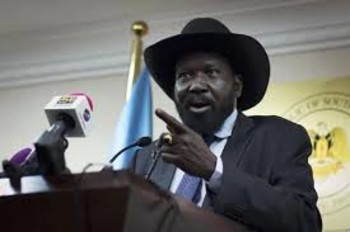 File photo: President Salva Kiir
All officials at South Sudan's Presidential Palace also known as "J1" are unaffected and have uncensored access to the website of the news service Radio Tamazuj while South Sudanese citizens are being blocked from entering the website, several officials at the presidency said.
Meanwhile, security officials inside South Sudan government's spy agency known as National Security Services (NSS) in Juba said all of them are currently accessing the Radio Tamazuj website without any problems.
Another source said the ministries in the capital Juba can also access the website of the news service Radio Tamazuj.
South Sudan government has announced that it cut off access to the website of the news service Radio Tamazuj since Monday.
Users of some mobile phones and Wi-Fi networks in South Sudan complained since Monday that their browsers told them that the website "has been blocked by South Sudan National Communication Authority. "The users also had problem accessing other news websites commonly visited by South Sudanese readers.
The move comes barely two weeks after authorities arrested the director of the state-owned television (SSBC), Adil Faris Mayat after the station failed to broadcast President Kiir's Independence Day speech.
Dr. James Okuk, a renowned political analyst and political science lecturer at University of Juba, said the government's decision violates the transitional constitution which is the country's supreme law of the land.
"If government continues to block citizens from accessing information that shows there is a dictatorial tendency even the world has forgotten about this thing. The people should have access to information. The people of South Sudan will live without knowledge," he said.
The political analyst pointed out that the blocking of news websites could lead to extremism because the people of South Sudan will live without information. According to Okuk, all internet service providers controlled by the government of South Sudan will move to other companies that provide uncensored internet services.
"The government does want the people of South Sudan to know what is happening. The blocked news websites are reporting what is happening in the country, that's why the government is not happy," said Okuk.