ADDIS ABABA -
25 Jul 2019
Preparations underway for Kiir, Machar meeting: IGAD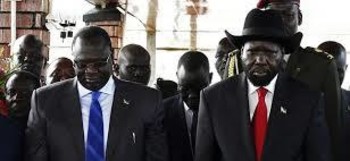 Preparations are underway to hold a meeting between President Salva Kiir and opposition leader Riek Machar, regional mediating body IGAD said.
Abdullahi Busuri, Programme Manager of the Inter-governmental Authority for Development (IGAD), told Radio Tamazuj today that arrangements are in place for the two leaders to meet face-to-face soon.
Busuri did not name the meeting venue.
"The meeting will take place soon but we cannot announce the venue. I can say the meeting will take place soon," he said.
The IGAD official pointed out that the two leaders had agreed to meet to discuss the challenges of implementing the revitalised peace deal.
"There are a lot of agendas on the table to be discussed," he said.
Earlier this month, South Sudan government invited exiled opposition leader Riek Machar to meet with President Kiir in Juba to discuss the critical pending tasks in the peace deal, which is behind schedule.
However, the opposition group said it was ready to allow Machar to return to the capital Juba if certain security assurances were made.
Machar, who under the terms of the revitalised peace deal is to be reinstated as first vice president, is currently in Ethiopia. President Kiir is scheduled to travel to Ethiopia next week.
South Sudan's rival leaders extended the formation of the unity government to November in order to implement key provisions such as creating a unified army and determining the number of states.