Pope Francis appoints bishop for Malakal diocese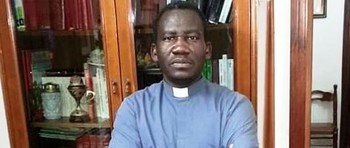 Pope Francis has appointed Bishop Stephen Nyodho Ador Mojwok as bishop-elect of the Catholic Diocese of Malakal, South Sudan.
Bishop Nyodho's appointment was announced on Thursday by Secretary-General of the Catholic Archdiocese of Juba on behalf of Archbishop Paolino Lukudu.
The Secretary-General of the Catholic Archdiocese of Juba described the election of the bishop as a good step ahead because Malakal that was vacant for long time will now have a leader.
He further said there will be great changes in the Catholic Diocese that has been affected by the country's civil war.
Fr Stephen Nyodho Ador Mojwok was ordained a deacon on November 14, 2004 and a priest on 15 May 2005, by the late Malakal Emeritus Bishop, Vincent Mojwok.
He was appointed assistant parish priest of Christ the King Malakia, on 31 July 2005, acted as parish priest from 2007 to 2009 and became a parish priest on 30 September until 2013.
Fr Nyodho served as an Acting Director of Pastoral Liturgical Catechetical Center from 2007 to 2009 and Acting Director of St Joseph's Diocesan Technical workshop the same period.
From 2009 to 2013, Nyodho was a member of the college of consulters and of the Diocesan Pastoral Council and was appointed Vicar General in 2019.
In 2013, Nyodho went to Rome for Master Degree and Doctorate in Moral Theology at the Pontifical Urbaniano University in 2016 and Pontifical University of St Thomas Aquinas in 2018.