Pope calls for protection of women, girls against violence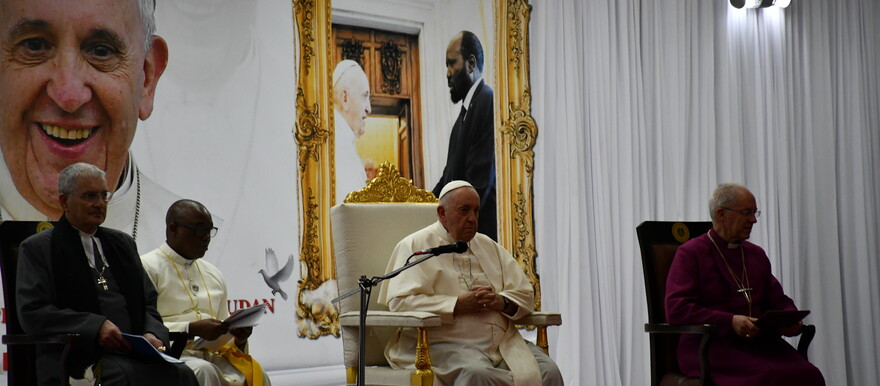 [Photo: Radio Tamazuj]
Pope Francis on Saturday called for the protection of women and girls against violence in the country.
The Pope made this call while addressing thousands of International Displaced Persons or IDPS drawn from Juba, Bentiu, Malakal, and Bor protection of civilian sites at Freedom Hall on Saturday.
"I ask you, I ask all the people of these lands, to ensure that women are protected, respected, valued, and honored," Pope said.
Pope said without the protection and respect for the dignity of women and girls, the country will never have a future.
"Please, protect, respect, appreciate, and honor every woman, every girl, young woman, mother, and grandmother. Otherwise, there will be no future. Brothers and sisters, once more I look out at you."
"I see your eyes, weary but bright, eyes that have not lost hope. I see your mouths, which have not lost the strength to pray and to sing. I see you with empty hands but hearts full of faith," he added.
The 86-year-old pontiff said their visit is to give what he called "wings of hope" to the people of South Sudan who have the bear burden of a painful past.
"You bear the burden of a painful past, yet you never stop dreaming of a better future. In our meeting today, we would like to give wings to your hope," he said. We hope and believe that now, even in the camps for displaced persons, where sadly you are forced to live due to the situation in your country, a new seed can sprout, as from the dry and barren soil."
The head of the Catholic Church called on IDPs to forget the past and open a new chapter of forgiveness and reconciliation in a bid to restore peace and stability in the country.
"You, from all your different ethnic groups, you who have suffered and are still suffering, you who do not want to respond to evil with more evil," he said. 
Pope Francis is in South Sudan as a "pilgrim of peace," where he is embarking upon a three-day ecumenical pilgrimage for peace, with the Archbishop of Canterbury, Justin Portal Welby, and Rt Rev Dr. Iain Greenshields, the Moderator of the General Assembly of the Church of Scotland.
On Sunday morning, the Pope will precide over a final mass after which the church leaders will depart to their various countries.
This visit marks the Holy Father's fifth Apostolic Journey to the African continent.