Political interests cast shadow on latest peace talks, says observer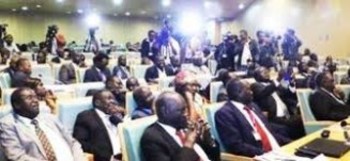 Focus on narrow political interests between South Sudan government and opposition groups have cast overshadow on the latest round of peace talks that ended without a peace deal in Addis Ababa last week, a South Sudanese observer said.
"What happened at the peace talks is that leaders from both sides focused more on personal differences instead of discussing the key issues facing the people of South Sudan, "Edmund Yakani, executive director of the non-profit Community Empowerment for Progress Organization (CEPO), told Radio Tamazuj on Monday.
The leading civil society activist, who attended the latest round of peace talks, said if the two sides do not change their approach to peace talks in the third round of peace talks, no peace agreement will be signed.
"Personal differences between the two sides were the main problem, so the mediation found it difficult to bring the divergent viewpoints closer," he said.
He pointed out that the East African regional bloc IGAD will carry our wider consultations with the South Sudan parties on governance and security arrangements before the next round of peace talks starts.
Yakani said that he is optimistic about achieving a peaceful settlement in the war-torn country, adding that it depends on the consultation process by the meditation team in the coming days.
The observer pointed out that the South Sudan peace file could be referred to the African Union or the United Nations if the regional bloc fails to find a peaceful settlement in South Sudan.
He further said a proposal that the country's president Salva Kiir and his former first deputy Riek Machar should get out of South Sudan politics could impede the peace process in the country.
Yakani urged South Sudan leaders to discuss issues that can benefit the people of South Sudan. He pointed out that the opposition coalition had presented proposals on far-reaching reforms in the country.
He also urged the government team to present brilliant ideas for reforms in South Sudan in the next round of peace talks in Addis Ababa.