Political figure blocked from traveling to Addis talks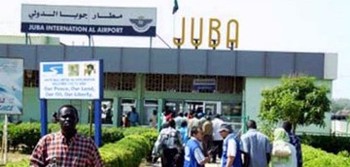 South Sudanese security agents at Juba International Airport blocked a political figure representing a coalition of political parties in Juba from boarding an airplane to travel to Addis Ababa, where peace talks will be chaired by peace mediators on 5 February.
The coalition of national political parties led by Kernelio Kon had been invited to participate in the second phase of the revitalization process of the 2015 peace agreement.
Ismail Suleiman, a leading member of South Sudan's Communist Party, told Radio Tamazuj this afternoon that Andrew Okony who is one of the three representatives of the coalition at peace talks was stopped at Juba airport as they tried to board a flight to Addis Ababa, pointing out that Okony was detained by national security agents this afternoon.
"Okony was taken to an unknown destination by the security officials. I have just heard that he has been brought back and now he is being investigated at the airport for unclear reasons. The plane took off after Okony was prevented from travelling to Addis Ababa," he said.
The political figure pointed out that various delegations in Juba have already travelled to Addis Ababa for the upcoming peace talks. "Alakiir who is representing women has also been stopped at Juba airport as she tried to board the flight," Suleiman said.