Political commentator arrested by National Security in Juba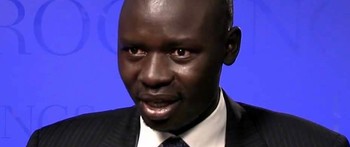 Photo: Peter Biar Ajak
Prominent South Sudanese political commentator and youth leader has been arrested, his wife told Radio Tamazuj on Sunday, while trying to travel to Aweil town.
Peter Biar Ajak is a founder of South Sudan Young Leaders Forum, a group that seeks to mobilize and organize youth to realize a peaceful South Sudan.
Government officials were unavailable for comment.
Biar, a political analyst and prominent youth leader, was arrested on July 28 by national security officials at Juba Airport while preparing to fly to Aweil today morning.
According to his wife, Biar was arrested while trying to check in for his flight to Aweil to attend a Red Army commemoration day on Sunday.
Biar is being held in the NSS headquarters in Juba and his wife said she has not been able to contact him since his arrest. "His phone went off after I spoke to him this morning," she said.
She further said charges against Biar remain unclear. "We are worried as a family…The security confirmed that they have him but no one is allowed to see him," she said.
She stressed that Biar should either be charged with a recognised offence and presented before a competent court or released.
In April, the two governors of Aweil and Aweil East states in Northern Bahr al Ghazal region refused to grant permission to Peter Biar and his colleagues to hold meetings with local youth in Aweil and Wanyjok towns, citing the decline of higher authorities in Juba.