Polio vaccination kicks off in Yei, over 25,000 children targeted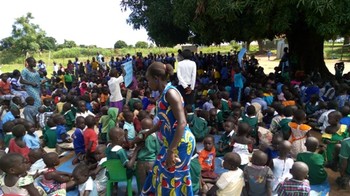 File photo Children under a school mango tree in Yei (Radio Tamazuj).jpg
More than 25,000 children in Yei River County are expected to benefit from a routine four-day oral polio immunization organized by the World Health Organization, the UN Children's agency UNICEF and Yei River state ministry of health.
Speaking to Radio Tamazuj on Tuesday, Yei River County health director Michael Lugala said at least 26 health teams have successfully arrived to remote areas of Lasu Payam along the South Sudan/Congo border, and Logo and Mapoko Payams 13 miles along the Yei-Maridi.
Lugala noted that this is the first time in three years that health officials have been able to access these areas due to insecurity.
"We are expecting to cover 90% of the children and 25,000 children will benefit from this polio vaccination. My message to the public in general is that polio is a dangerous disease that can cripple or kill. We have mobile teams moving in Lasu to Libogo villages, Logo and Mapoko Payams," he said.
"My call to the conflicting parties is to allow the teams to move and vaccinate the children freely," he urged.
Lugala urged both rebels and the government forces in the area not to interrupt the vaccination exercise going on.
The health official pointed out that accessing these remote areas has been made possible by the cessation of hostilities agreement signed by both the government and rebel forces allowing humanitarian access to the needy population.
He also called on the public to avail their children for the door-to-door vaccination and cooperate with the health teams saying polio is a deadly disease that can be prevented through the oral vaccination.